Maryland's Digital eLibrary Consortium


Access the Consortium website
Through the Overdrive service, MD's Digital eLibrary Consortium provides downloadable eBooks and audio books for adults, young adults, and children from many different publishers, compatible with iPad, Kindle, Nook, and many other devices.
Some titles are always available, while others may require you to place a hold if they are checked out. For the greatest selection, including content purchased just for Harford County Public Library customers, please log in before browsing. It is also required that you log in before placing a hold or checking out a title. Each user is able to checkout 10 items at a time and reserve 10 items at a time.
Meet Libby, the one-tap reading app powered by OverDrive
Access eBooks and audiobooks through the Libby App. Libby was engineered from the ground up with many new features and enhancements requested by your readers and staff: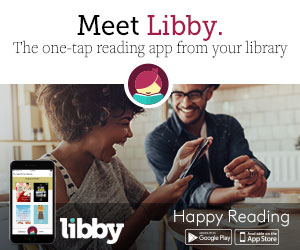 Quick and easy for first time users
Integrated reading and listening experience with OverDrive Read and OverDrive Listen
No Adobe ID or account registration required
Faster performance and powerful search
Same experience on all devices
Customizable browsing options to find the books you want faster
Simplified download settings
Fixed-layout and Read-Along eBook support
Support for eBook highlights and annotations
Custom lists for tagging books you love, want to read and more
As previously communicated, to support this upgrade and enable future feature development, Libby's minimum Android operating system requirement has changed from version 4.4+ (KitKat, released in 2013) to version 5.0+ (Lollipop, released in 2014). This change affects Android devices that cannot upgrade to Android version 5 or higher. Based on usage data, that presently accounts for less than 1% of Libby users across all library systems. Users with these older devices will see a message with options to either update their device's operating system, switch to a supported device, or access Libby in the device's web browser. The iOS minimum requirement for Apple devices (iPhones and iPads) remains unchanged at 9.0+.
Download the Libby App!
Apple App
|
Android App
|
Microsoft App
FAQ's about the Libby App
It is important to note that while the Libby app was created by Overdrive, it is separate from the Overdrive app. The original Overdrive app is still available, so you can choose whichever one you prefer. You do not need both, but if you already have the Overdrive app, maybe give Libby a try and see if it is a better fit. To download the OverDrive App, visit our Mobile App's page.
For help, please visit the Help section on the Consortium website or check out the tutorials below.
Due to the closure of the NOOK Apps store, you can no longer install the OverDrive app on the NOOK Color or NOOK Tablet. If you'd like to read eBooks on your NOOK Color or Tablet, you can use Adobe Digital Editions to transfer eBooks from your computer to your NOOK