American Girl Doll Lending Program
American Girl Dolls are here!
Check out a doll and learn about a piece of American history!
Each kit contains a doll, accessories, carrying case, doll bed, first book in her American Girls series, and a journal to record a story about your adventures together.

View the list of American Girl Dolls in the Catalog
American Girl Doll Lending Program Facts:
*Dolls can be checked out for 21 days
*Dolls can be checked out using an adult library card
*Two dolls per card.
*Dolls can be requested.
*Dolls can be checked out from, and returned to, any library branch in Harford County.
*There is a $2.00 a day late fee.

Caring for an American Girl Doll:
Parents and caregivers, only if necessary, clean the doll's face
following these instructions.

Instructions:
Protect the doll by pulling her hair back from her face and cover her clothing.
Mix 1 Tablespoon of baking soda with warm water, then dip a washcloth in warm water and rub the doll's face with the baking soda paste.
Be careful not to get her eyes wet.
Gently dry her face with a soft towel.
Please DO NOT:
Cut or shampoo her hair (the hair can get frizzy and damaged)
Use a hair dryer or curling iron on doll's hair Wash doll's clothes
Remove jewelry from the doll
Please handle the American Girl doll with care so others may enjoy her, too!
Thank you.
Come meet ...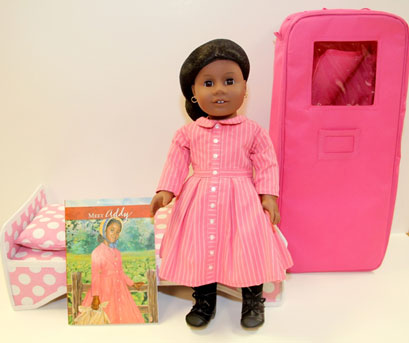 Addy Walker is a proud, courageous girl growing up in 1864, during the midst of the Civil War. Addy's stories tell of her daring escape with her mother from slavery, the challenges they face afterward as they try to reunite their family, and the love and hope that help get her through a terrifying journey north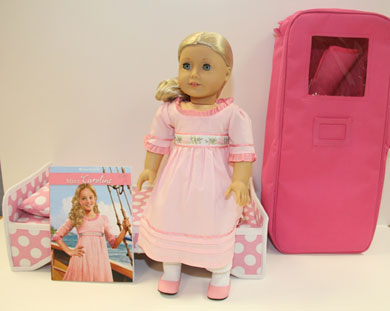 As the War of 1812 begins, so does the story of Caroline Abbott's bravery. She loves sailing with her father, but when he's captured, Caroline must help keep the family's shipyard running. When she sees a chance to rescue her father, Caroline discovers that she must use her mind and heart to guide her decisions.
Gabby loves expressing herself--especially in the dance studio--but lately, poetry is becoming her art form of choice, and for good reason: Gabby struggles with stuttering, and spoken word poetry helps her speech flow more freely. Still, compared to how confident she feels on the dance floor, speaking up can be scary. When the city threatens to close her beloved community arts center, Gabby is determined to find a way to help. Can she harness the power of her words and rally her community to save Liberty Arts? Gabby lives in Philadelphia.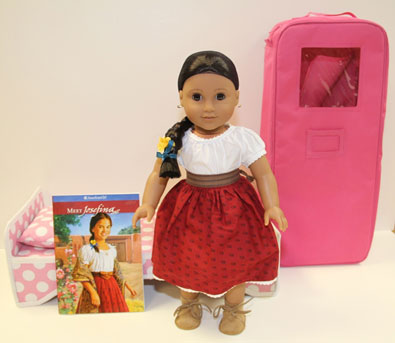 Nine-year-old Josefina, the youngest of four sisters living in New Mexico in 1824, tries to help run the household after her mother dies. When her mother's sister comes to live with the family, Josefina is overjoyed - but she also has to find ways to remain faithful to the old ways while helping her sisters and father open up to new ones.
Julie is an avid basketball player and is upset about the way girl athletes are treated compared to boys. After Julie's parents' divorce, she moves to a new San Francisco neighborhood where the school does not have a girls' basketball team, so she fights for the right to play on the boys' team. She and her friend Ivy, who is Chinese American, also try to raise awareness about the environment.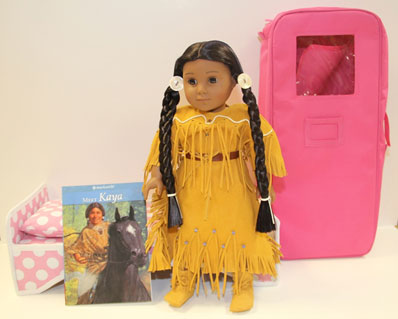 Discover the adventurous story of Kaya, a member of the Nez Perce. Her people depend on one another for survival, so after putting her little brothers in danger Kaya is given an insulting nickname. When enemy raiders invade her camp, Kaya learns from her mistakes by drawing strength from the stories and lessons of her elders.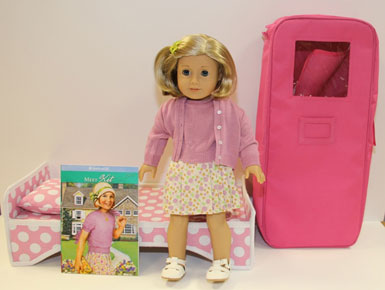 Even though the Great Depression was filled with hard times for families, Kit helps hers by being resourceful. With her best friend, Ruthie, by her side, Kit figures out clever ways to make do with what she has. She also learns to treasure what money can't buy-friends and family
Lea Clark – birthday August 14, 2005

Lea lives in St. Louis, Missouri with her mom and dad. She has an older brother name Zac. She has a pet turtle name Ginger. Lea loves to take phototgraphs with her camera. Lea won third place in a national kids' magazine contest. Her friends are Abby Hudson and Camila Cavalcante, a girl who Lea met in Brazil. Lea is 1/8th Brazilian.
Logan is Tenney's bandmate and drummer and lives in Nashville, Tennessee.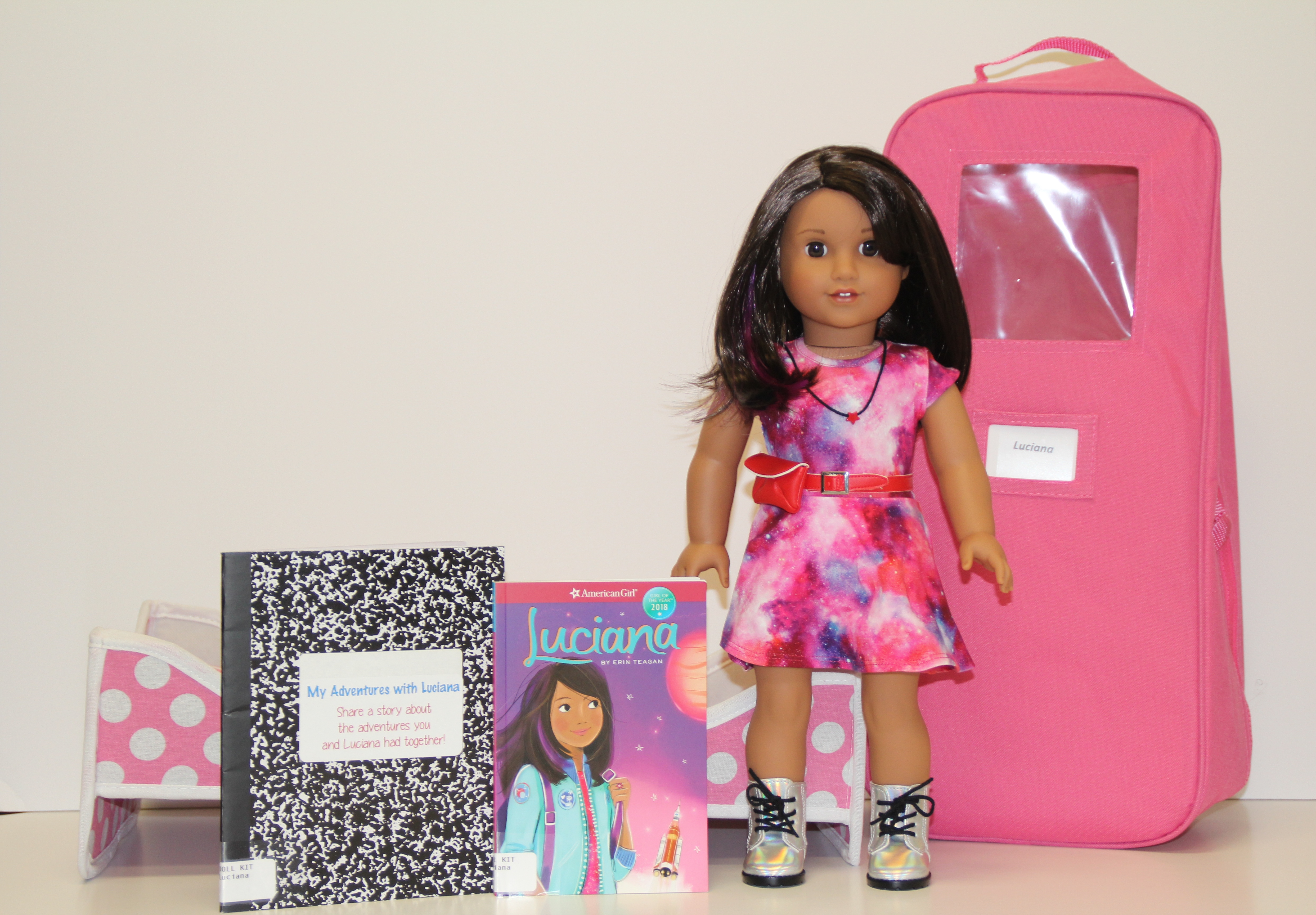 Luciana (nicknamed Luci) is of Chilean descent. She aspires to be the first person to explore Mars. Luci is incredibly creative and she loves sketching her ideas. She is also incredibly determined and quite smart. One of Luciana's prized possessions is her star necklace, which was given to her on her first birthday. She only wears it for special occasions.
After Marie-Grace's mother dies in an epidemic, she leaves New Orleans with her father, who is a physician. Returning to New Orleans after many moves on the East coast, she at first finds it hard to stand up for herself. But she becomes friends with Cecile despite differences in color and social standing, and her new friend encourages her to become more confident. Marie-Grace often helps her father in his work, and has shown herself to be very good at healing others.
Maryellen Larkin-birthday May 7, 1945

Maryellen (nicknamed Ellie) is an enthusiastic, optimistic, ambitious, and imaginative girl. She longs to stand out but often feels lost in the shuffle of her big, busy family. Her favorite TV shows include Davy Crockett and The Lone Ranger, and she dreams up episodes where she gets to be the hero. Maryellen is seen as cheerful and curious by people meeting her for the first time.
Melody lives in Detroit and loves gardening and singing. Melody loves "The Motown Sound" and other acts coming from Hitsville, USA such as the Supremes, Marvin Gaye, and little Stevie Wonder. Her whole family is involved in music in some way and are good singers.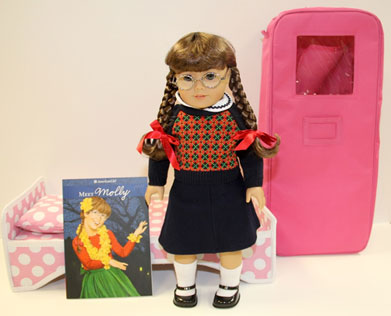 Molly's father is a doctor, and when he signs up to serve, Molly is very upset, and not always cooperative - even when her mom has to take a job outside the home. Then Emily, a British war orphan, comes to stay with Molly's family. Getting to know Emily, as well as performing in a patriotic show, help Molly come to terms with what's going on around her.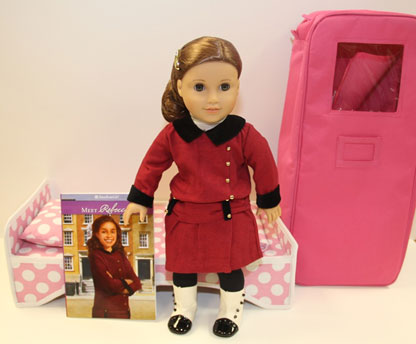 Rebecca Rubin is growing up in a big Russian-Jewish family in New York City in 1914. She wants to be an actress - but her parents and grandparents have traditional ideas of what a young lady should do, and acting isn't one of them! Can Rebecca find a way to follow the traditions she loves, without giving up her dreams?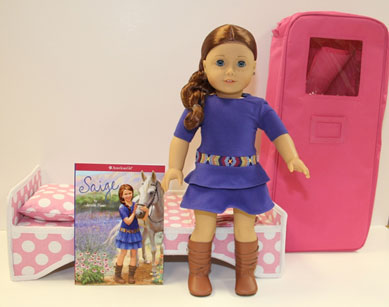 Saige Copeland loves the arts and her horses. But when both of her passions are threatened, she turns to her creative side. With imaginative solutions, she proves that one girl can make a difference.