Health Insurance Marketplace information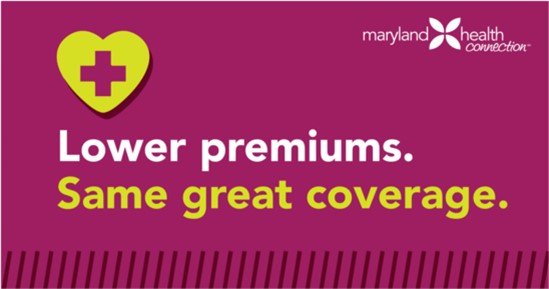 More Savings For More Marylanders
If you are
uninsured
, it's worth checking out your health plan options – there are now new, bigger savings. Even if you looked earlier this year, come back because the new savings started April 1.
If you received unemployment at any time in 2021, even if it is just a week, you can get a health plan for as low as $1 a month and get savings on other health care costs.
If you didn't qualify for savings before you should take another look because, for the first time, there are savings available for higher-income individuals and families.
MESSAGE FROM Maryland Health Connection and Seedco on Novel COVID-19 and Access to Coverage:
In an effort to prioritize health and safety and in response to Coronavirus, Maryland Health Connection opened an Emergency Special Enrollment Period for uninsured Marylanders. To enroll in a Qualified Health Plan and learn if you may be eligible for tax credits to reduce your monthly payment, contact a Navigator. Medicaid enrollment is year-round if you qualify.
You can enroll in a health plan now through Sunday, August 15, 2021.
When will the special enrollment period begin?
The coronavirus emergency special enrollment period will begin in January and ends on Saturday, May 15. Here are the dates coverage will begin, depending on what day you enrolled in a health plan:
Enroll March 16- April 15, 2021, coverage starts April 1, 2021
Enroll April 16 - May 15, 2021, coverage starts May 1, 2021
Enroll May 16 – June 15, coverage starts June 1, 2021
Enroll June 16 – July 15, coverage starts July 1, 2021
Enroll July 16 – August 15, 2021, coverage starts August 1, 2021
Seedco's Navigators are working remotely and available to provide assistance over the telephone. Call the Seedco Hot Line at 866-492-6057, Monday through Friday, 9:00 am-4:00 pm to speak with a Navigator, or Visit MarylandHealthConnection.gov or download the free "Enroll MHC" mobile app. When enrolling, consumers should request or select "Coronavirus Emergency Special Enrollment Period."

The online application is available daily from 6 a.m. to 11 p.m.

Is Coronavirus testing covered under a Maryland Health Connection plan or Medicaid?

Yes. Health insurance companies are required to waive cost-sharing, including lab fees, co-payments, coinsurance, and deductibles for any visit to test for coronavirus at a doctor's office, urgent care center, or emergency room.

Can I qualify for the Coronavirus Emergency Special Enrollment Period even if I'm not sick?

Yes. All eligible, uninsured Marylanders may qualify for this emergency special enrollment period.

What do I need to apply?

Have these items ready when you apply.

We encourage all residents to closely follow the Centers for Disease Control and Prevention (CDC) and the Maryland Department of Health (MDH) for all health-related coronavirus questions.
What is the Maryland Easy Enrollment Health Program?
During this tax season, you will be able to sign up for health coverage through the Easy Enrollment program.

Check a box on your tax return if you would like the Maryland Health Benefit Exchange, the state agency that runs Maryland Health Connection, to estimate your eligibility for coverage. If you file your taxes by April 15, this selection launches an easy process that will help you enroll.
How it works:
Check the Box: A question on your state tax forms (502 and 502B) will ask if you want to share some of your information, like your household size and income. By checking the box on the tax return, you are giving permission for the Comptroller to share information with Maryland Health Connection.
File your taxes. If you check the box, Maryland Health Connection will check to see if you may be eligible for free or low-cost health coverage.
Receive a letter: Shortly after you file your taxes, we will mail you a letter explaining your eligibility for free or low-cost health coverage. Many Marylanders qualify for savings. In fact, 9 in 10 Marylanders who enrolled through Maryland Health Connection last year got savings. You will have 35 days from the date on your letter to sign up for a health plan and access these savings.
Enroll through Maryland Health Connection: Once you receive your letter you can login into your account or create an account to explore your health plan options and enroll.When you begin your application, a new Special Enrollment question will ask if you or a household member received a "Tax Time SEP" notice. If anyone in your household is already enrolled, you can still add uninsured household members under "Reason for Change."
Get help by phone A certified navigator from Maryland Health Connection may call you to offer free help enrolling. Find a navigator in your county. Or call 1-855-642-8572 to apply. Deaf and hard of use Relay.
Remember, you only have 35 days to enroll!