Giving Opportunities
"Giving is the highest expression of power."
-Vivian Greene
Our efforts are made possible through the generous support of individual and corporate donors who share our commitment to the community. A gift to the Harford County Public Library Foundation of $1,000 or more is considered a major gift by our organization. Major gifts allow us to meet our fundraising goals and provide an opportunity for a higher level of visibility in our donor recognition efforts. Outlined below are countywide initiatives that occur annually and provide an opportunity for partnership and long-term commitments.
Summer Reading Adventure
Harford County Public Library's 2024 Summer Reading Adventure encourages everyone from infants, toddlers, and preschoolers, to children, teens, and adults to read and explore through books.
More than 18,000 children and families are anticipated to join the Summer Reading Adventure this year.
The exciting schedule of summer events encourages lifelong learning, school readiness, and the love of reading in many different ways from books, guest presenters, concerts, STEM, crafts, and other fun activities!
Studies show that children who participate in public library summer reading programs score higher on reading achievement tests at the beginning of the next school year, experience less summer learning losses, and begin the school year with more confidence.
Our dream is to provide every child who participates in the Summer Reading Program with quality books of their own that encourage learning and imagination. Please help us fuel the 2024 Summer Reading Adventure by sponsoring this important and meaningful initiative today.
For more information on how to support HCPL Foundation, contact Amber C. Shrodes, Director of Philanthropy and Community Engagement, at shrodes@hcplonline.org for more information.
Become a 2024 Summer Reading Sponsor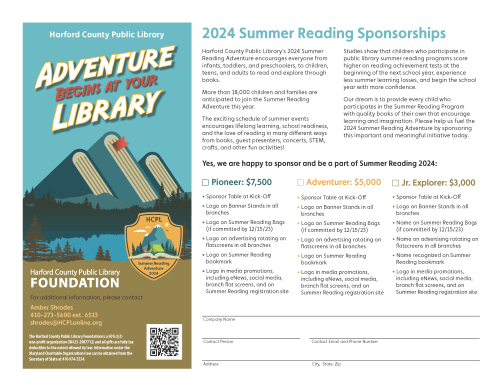 Download 2024 Summer Reading Sponsor signup sheet.
Winter Reading Program
The Winter Reading Program offers adults a New Year's Resolution we can all achieve: read five books of your choice and be rewarded! This program operates from December 21 to March and encourages adults to read, participate in book discussion groups and attend author readings. Adults receive an incentive from the HCPL Foundation when they register and a mug from the Friends when they complete the program. The theme and color scheme of the program changes annually which has generated fun mug collections for many of our participants.
HCPL Foundation is currently seeking sponsors for the program. Become a Sponsor.
Gala
The HCPL Foundation hosts a fall fundraising event for the Library to increase awareness of new initiatives, raise funds for library programs and provide a venue for our supporters to enjoy an evening out on the town!
The event occurs the first Saturday evening in November with cocktails, fantastic food and live music. The gala transforms a library branch through the theme of the evening into a destination for our guests. A consistent effort is made to promote local treasures, whether they are musicians, wineries or caterers. Ticket prices are kept at a reasonable level to encourage participation from all of our supporters.
More information about the Gala
Silver Reader

The Silver Reader, launched in February 2006, takes library services to older adults who may no longer have access to branches due to health concerns, lack of transportation and age-related issues. In partnership with the Harford County Office on Aging this fully equipped, handicapped accessible vehicle visits nursing homes, senior centers and assisted living facilities to provide library services.