Volunteer Opportunities @ HCPL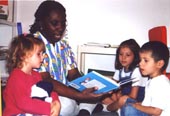 HCPL has a strong and vibrant volunteer program - over 1,300 people donate their time and talents to the library every year. Library volunteers are involved in many aspects of library service – from behind the scenes circulation help, to serving children in day care centers and elementary schools and even helping customers in our exciting Innovation Lab. Opportunities and openings vary from branch to branch. Here are just a few ways you can get involved (click on link for more information)
Branch Volunteer Opportunities
Ongoing opportunities for volunteers 14 years old and up (limited positions for teens)
Position description
Download Application to turn in @ your branch
There are many ways to help behind the scenes. Volunteers help shelve, pull materials to fill customer requests, sort mail and material delivery, withdraw library materials, and help librarians prepare for programs and storytimes. Opportunities and opening vary from branch to branch.
Innovation and Computer Volunteers
Ongoing opportunities for tech savvy individuals who are 16 and an older (limited opportunities for teens)
Download application to turn in at your branch
Volunteers needed to help customers with basic computer instruction at all our branches as well as helping in our Innovation Lab @ our Abingdon Branch. Volunteers must be comfortable with computers and technology and have good interpersonal skills.
Summer Reading Volunteer Opportunities
Check back Spring 2019 for summer reading volunteer opportunities.
Volunteer to Share Your Love of Reading with Pre-Schoolers!
Encourage a child's enthusiasm for reading as you share stories, fingerplays and other library materials with young children. A librarian will prepare a packet of materials for volunteers to share with children in a licensed preschool or daycare center.

You must be 18 or older and be able to volunteer for a half day per month from October through May.
Make a difference in a child's life! Volunteer for Partners in Reading
Encourage a child's enthusiasm for reading as you work one-on-one or in small group settings with elementary school students. Volunteers make an impact on students as they become reading buddies and role models.

You must be 18 or older, have transportation to a designated elementary school and be able to volunteer a minimum of 1 hour a week during school hours from October through June. You must also have an email address that you check on a regular basis.