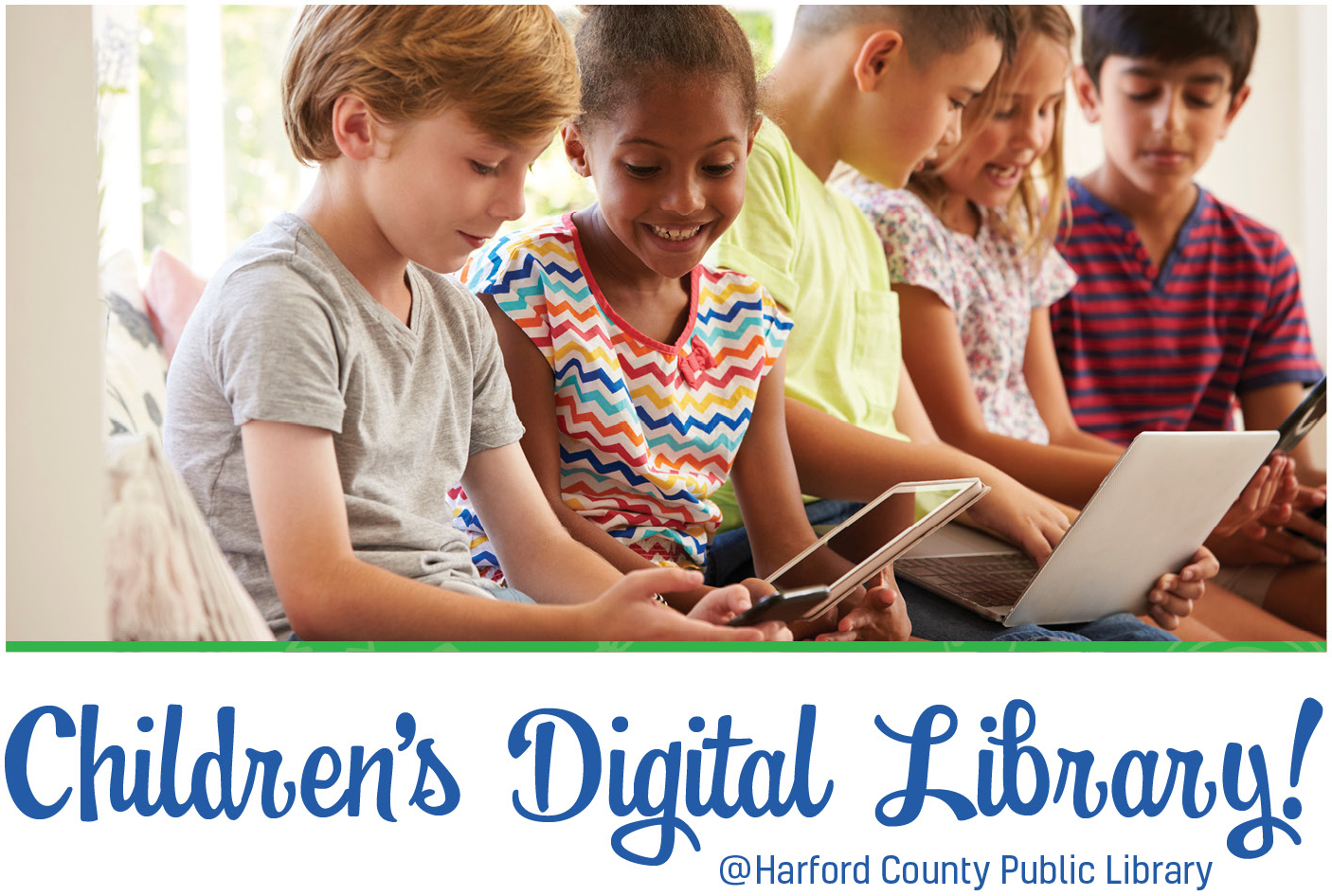 ▸ OverDrive Kids
Audiobooks & eBooks
▸ Kanopy Kids
Movies, Literary Classics, PBS TV series, & Little Pim Learning Languages
▸ Hoopla
Audiobooks, Disney eBooks, eBooks, Movies, & Music
▸ Tumblebook Library
Talking Picture Books
▸ TumbleMath
A comprehensive collection of math picture books online.
▸ Biblioteca Tumblebook
Libros en Español
▸ Bookflix
Storybooks: Watch & Learn
▸ Scienceflix
Explore & Learn
▸ Trueflix
Explore History,Science, & Nature

▸ Design A Spy Gadget or Crack A Top Secret Code
Check out the International Spy Museum for these activities and more
▸ Children's Book Council Links to Publisher Pages with Activities!
Resources, activities, discussion guides, teacher guides and more for children of all ages
▸ Have a great time with PBS Kids
Lots of fun with PBS Kids games & videos
▸ APGFCU - M3Money for Kids
Kids can learn the importance of saving with Cash, Violet, and the Evil Dr. Spendit
▸ Harry Potter at Home
Cast a Banishing Charm on boredom! Experience magical craft videos, fun articles, quizzes, puzzles, special contributions from Bloomsbury and Scholastic, and much more from the wizarding world of Harry Potter!
▸ Maryland Science Center
Put on your lab coat and have fun with online activities and events that will bring a bit of the Science Center right to your home!
▸ Maryland Day by Day Family Literacy Activity Calendar
This calendar provides daily activities for you to do together that are fun and educational. "Play" is a child's "work" so simply playing with your child using the daily activities is the goal. Remember, the things you learn with joy, you'll remember forever.
▸ Chesapeake Bay Foundation
Looking to learn more about the Bay? These curated activities, arranged by topic, encourage curiosity and love of the Chesapeake Bay. Teachers and students alike will find these fun resources helpful for learning more about the great Chesapeake Bay watershed.
▸ Hello You with Sandra Magsamen
Sourcebooks Kids along with artist, author, and designer Sandra Magsamen, have created this web series that celebrates learning, creativity and play! Filmed entirely from her studio in Vermont, its filled with lots of fun activities, games, interviews, stories, and more!
▸ Celebrate Constitution Day!
On September 17, 1787, the Founding Fathers signed the most influential document in American history, the U.S. Constitution. Enjoy FREE engaging, educational live programs and award-winning resources at the National Constitution Center!
▸ Abingdon Library Sensory Path
Wow- check out the Abingdon Library Sensory Path! This outdoor pathway from the library, past the playground and toward the pond is painted with bright and whimsical activities, creating a literacy course that has children of all ages skipping, jumping, and singing their ABCs and 123s. Get some fresh air while stimulating the mind, engaging the senses, and sparking imagination.
▸ Dav Pilkey at Home
In collaboration with the Library of Congress, the author and illustrator of Dog Man and Captain Underpants, will share new video content on Friday mornings at 8 am ET. Fun and free activities will also be available online including how-to-draw demonstrations, engaging read-a-louds and inspiring resources from the Library's collections.
▸ Listen to Star Storytime on Instagram Every Thursday at 10:00 am ET
Hear storytimes from a different Holiday House author or artist each week
▸ Between the Lions Early Reading Collection from PBS
Explore the series that helps kids "Get Wild About Reading!"
▸ Reading Games with PBS
Read & play games with your favorite PBS KIDS characters
▸ Port Discovery Children's Museum
One of Baltimore's favorite museums offers videos on fun activities like "How to Make a Scribble Bot" and guidelines for learning at home- such as "Tips on Exploring Literacy Through Play"!
▸ Where's Waldo at Home!
Who doesn't love Waldo and where is he, by the way! Enjoy the hunt with Candlewick Press' popular Where's Waldo books and activities.
▸ Children's Story Podcasts
Take a break from screens! A collection of children's podcasts curated by Booklist Magazine offers an absorbing literary experience and can immerse young listeners into another world. Kids can listen quietly alone, or podcasts can become part of the family routine as a shared listening experience. This list is geared to children ages 2 and older and is available free on nearly any podcast app.
▸ Smithsonian Institution
Kids and teens can explore art, history, and culture. Fun games, activities, and podcasts related to their vast collections and the research surrounding them are available to you online on a kaleidoscope of topics—from art to zoology!
▸ Write. Right. Rite. with Author Jason Reynolds
Welcome to the "Write. Right. Rite.," a "GRAB THE MIC: Tell Your Story" video series with National Ambassador for Young People's Literature, Jason Reynolds!
▸ KidLit TV
Award winning KidLit TV is the place to discover great children's books and connect with the people who create them. Curated by a diverse group of parents, educators, librarians, kid lit creators, and award-winning filmmakers… all working together to create fun new ways to reinforce an appreciation of reading that children will carry with them for the rest of their lives.

▸ Storyline Online
Picture Books Read by Famous Actors
▸ International Children's Digital Library
Read Books from All Over the World
▸ Classic Children's Books Online from the Library of Congress
Turn the pages to explore bygone eras, time-honored tales and historical narratives. Adventure awaits in these classic books online.
▸ Story Time From Space
Astronauts from the Space Station Reading Stories for Children
▸ Children's Books Online: The Rosetta Project
Historic Children's Books in Multiple Languages