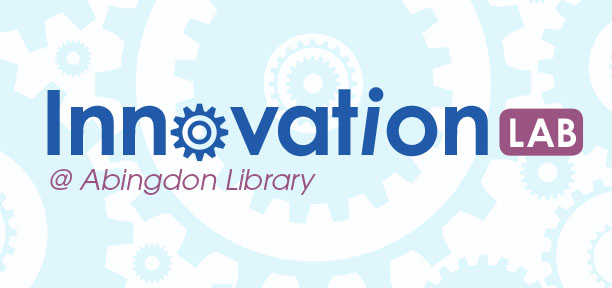 The Harford County Public Library Innovation Lab at the Abingdon Library is a digital media lab that provides community members the opportunity to be creators of electronic video, audio, publishing, 3D designs and more! Through creative experiences in the Innovation Lab, our customers develop new skills, resources, and products that help to drive Harford County's economy forward.
Please keep in mind that:
The Innovation Lab is designed for children 6th grade and up and for adults. We welcome younger children to use the lab while accompanied by an adult.
The Innovation Lab is a shared learning environment. Staff will give a basic overview of equipment. Customers will use the equipment to create their projects.
Classes are scheduled on a variety of skills. Please see a staff member or our Headlines & Happenings event calendar for more information.
Appointments for all Innovation Lab equipment are offered up to two weeks in advance and are subject to availability. Other considerations may apply, please call the branch 410.638.3990 with any questions, to verify 3D printer availability or to book an appointment.
Each customer is limited to one 2 hour block per day.
Appointments for filming, recording or other exclusive use of the Lab are subject to availability and require 48-hours advanced notice.
Please review 3D Printing Guidelines @ HCPL before coming to the branch.
3D print jobs are limited to 1.5 hours or less.
Programs and classes on a variety of skills are offered periodically. Please see a staff member, Checkout program schedule or the Programs & Events Calendar for more information.
The Lab includes the following equipment:
3 Dremel 3D Printers
Three Apple iMac 27" desktop computers with Adobe Photoshop Elements 13, iPhoto, iMovie, and Garage Band.
One Apple iMac loaded with Final Cut Pro, Mainstage 3 and Logic Pro X
Three Windows 7 laptop computers with GIMP, and Windows Movie Maker
Computers in the Innovation Lab have our 3D creation software including Dremel DigiLab, Meshmixer, and Audacity sound recording
Color Printer
Professional Green Screen with 10" x 20" backdrop
Canon Vixia HF G20 Full HD Camcorder/Camera
Studio Quality Microphone
Two Audio-Technica Professional Studio Monitor Dynamic Stereo Headphones
To learn more about the equipment and the lab please call 410.638.3990, or stop by the Abingdon Library.

Abingdon Friends of Harford County Public Library
Harford County Public Library Foundation