Minecraft in Libraries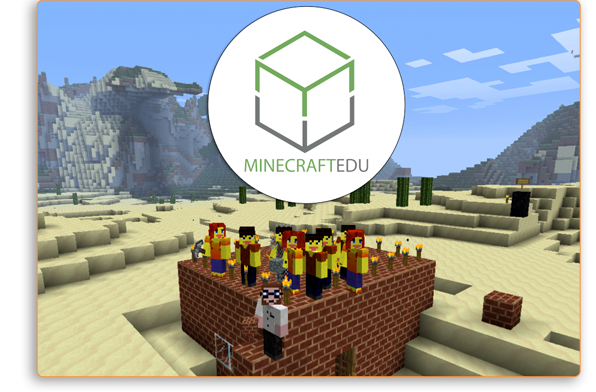 What is Minecraft?
Imagine that everything that exists, from ores to animals, was made of blocks, and that you could use those blocks to create a building, or a town, or a city, or an entire world. You'll find some pretty incredible things. Minecraft is a popular game worldwide, but playing with Minecraft Edu in public libraries opens up a variety of ways to play and learn that would be otherwise inaccessible. Students learned technology, engineering, problem solving, team building and other skills as a result of this program.
Why Minecraft in Libraries?
Minecraft is one of the few games that teaches skills that translate to the real world. There's a true sense of learning where things come from, and how they're used to create other things. You can explode a rock in order to dig. Keep digging, and you'll make your way to minerals like iron. From there, you can take that iron to a furnace, and use that furnace to create metal axes and shovels. You can use these to chop down trees or dig soil. Kids can also make tools out of stone, but if they make them out of iron they'll see that the iron tools last longer and work more efficiently.And then there are the things you can create. People have constructed elaborate mazes, towering skyscrapers, ornate temples, underground cities and much, much more. For some evidence of the effectiveness of the Minecraft tools, look up the Block by Block project, a collaboration with UN Habitat that allows young people all over the world to modify their own neighborhoods and create the changes they would like to see."
What is the difference between Minecraft and Minecraft Edu?
Minecraft is an open ended building game which allows players to explore and build in a variety of ways. MinecraftEdu is a schoolready remix of the original smash hit game Minecraft, played by over 30 million people worldwide. Created by teachers for classroom use and officially supported by Mojang, the company behind Minecraft, MinecraftEdu contains a set of powerful yet simple tools to fine tune the Minecraft experience for learning. Teachers in over 40 countries use MinecraftEdu in every subject area from STEM to Language, to History, to Art."
Recommended Websites
The Minecraft Glossary for Parents

Ten Things for Parents to Love About Minecraft

The Minecraft Forum


Minecraft Programs at Harford County Public Library
View calendar of Events