Nature Backpack Kits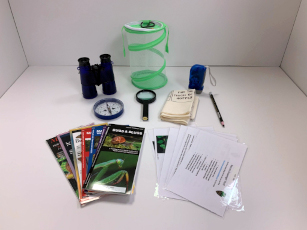 The Nature Backpack Collection enables you and your family to explore, enjoy, and educate yourselves while hiking locally. The tools, guides and activities found in the backpacks will enable meaningful and memorable interactive opportunities for you and your family.
Using Your Nature Backpack: Being a Naturalist
Good Naturalists Respect Nature:
We encourage the ethical observation of nature, plants and wildlife while hiking. Please avoid collecting or removing life from its natural habitat.

Please observe rules posted at each local hiking location.

Protect wildlife by observing only. Never feed wildlife and keep pets under control. Be wary of wildlife during sensitive times such as mating, nesting, and raising young.
Nature Backpack circulation parameters:
Available at all branches and are requestable
May be checked out on an adult or juvenile card
1 backpack per card
Loan period is 21 days
Late fee is $2.00 per day
Great Places to Hike in Harford County
Diverse hiking experiences exist in Harford County! Whether exploring the Piedmont Plateau in the northern region or the tidal marshes in the southern region, the Nature Backpacks contain tools and activities that help engage your family with the great outdoors!
Explore these parks and nature centers: http://harfordcountymd.gov/225/Parks-Recreation
Maryland State park information

Find state parks, park activities and amenities. http://dnr.maryland.gov/publiclands/Pages/default.aspx

Download AccessDNR-the official app from the Maryland Department of Natural Resources! The app, available for Android or iPhone, includes maps and directions to Maryland state parks and trails and much more.
Additional Resources:
Books for Children
Books for Adults to Share with Children
Resources from the Maryland Department of Natural Resources
Guide to Common Mammal Tracks in Maryland: https://dnr.maryland.gov/wildlife/Documents/Key-Common-Mammal-Tracks.pdf
Maryland Department of Natural Resources Wildlife Education Resources: http://dnr.maryland.gov/Wildlife/Pages/Education/home.aspx
Maryland's Wildlife Species: http://dnr.maryland.gov/wildlife/Pages/plants_wildlife/mdwllists.aspx
We thank the following local organizations who contributed Activities to the backpacks:*
Anita C. Leight Estuary Center
http://www.otterpointcreek.org/
The Harford Bird Club
A chapter of the Maryland Ornithological Society
https://harfordbirdclub.org/
Susquehannock Wildlife Society
http://www.susquehannockwildlife.org/