Silver Reader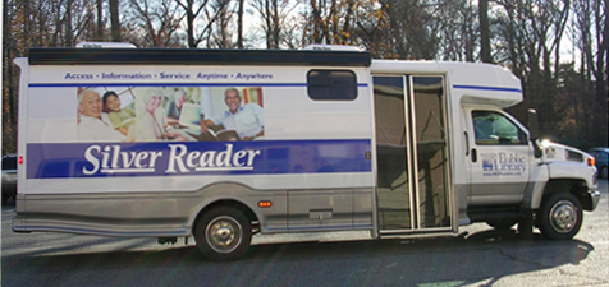 Perhaps you are new to Harford County or curious about the Silver Reader vehicle you may have seen traveling around the county. Silver Reader has been providing a special service to the seniors of our county since February, 2006.

Harford County Public Library is aware of the growing senior population in our community. While many seniors are active and mobile, there are also those who cannot easily get to a library branch. Silver Reader travels to assisted living facilities, long term care facilities, adult medical day care, senior centers and senior apartment locations throughout Harford County. In this way, many individuals and groups that are not currently served at branch locations can enjoy access to Harford County Public Library resources. Customers can use existing library cards to borrow materials from the vehicle. Silver Reader staff are able provide library cards to new library customers as well. Materials can be returned on Silver Reader's next scheduled visit (every 3 weeks) or dropped off at any Harford County Public Library branch.

This growing service currently visits over twenty locations. The vehicle is equipped with a lift so customers unable to climb steps can board the vehicle. Once on board, customers will find books in large print and regular print, audiobooks on CD, magazines, educational and entertainment DVDs, music CDs and two computers with Internet access. Silver Reader also has a selection of the new "Playaway" self-contained digital audiobooks. They are convenient, fun and easy to use. Silver Reader is also a part of Harford County Public Library's partnership with Consumer Reports Best Buy Drugs. Staff can assist in locating unbiased information and cost comparisons for various common medications as a part of this partnership.

You can also call the Silver Reader office at 410-638-3151 extension 6352 if you have questions about the service.

Contact Information
Phone: (410) 638-3151
Bel Air Branch Manager
Annie Kovach
Ext. 6310
Library Associate - Silver Reader
Kelly Donelson
Ext. 6352
Library Assistant - Circulation
Mary Schemm
Ext. 6306