LEAP: Science is Fun!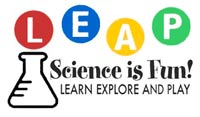 In this increasingly technological world, science, technology, engineering, and mathematical (STEM) skills are key to a child's success. Harford County Public Library recognizes the importance of fostering STEM talent and has developed the Learn, Explore, and Play or LEAP Program, a series of fun, free, educational programming and equipment kits to enhance interest and competence in these fields.
Citizen Science
What is Citizen Science? It's the idea that ordinary people (citizens) can conduct scientific research in a real and meaningful way. You don't have to have a college degree-or even a high school diploma! Here are some organizations that will link you into their Citizen Science networks.

Astronomy
Did you know that many comets are discovered by amateurs? The Harford Astronomical Society has monthly open house events for people interested in looking at the sky through a telescope. They will also help you figure out how to use the old telescope that has been hanging around in your attic for the past few years. http://www.harfordastro.org.
Anita C. Leight Estuary Center, www.otterpointcreek.org
This estuary center, located just off Route 40, is part of the National Estuarine Research Reserve in Maryland. It uses volunteers to conduct a variety of scientific research activities. Citizen scientists (volunteers) monitor populations of deer, box turtles, fish, and reptiles. Once a year they conduct a BioBlitz where they count as many of the different animals in the park as possible.
National Wildlife Federation Wildlife Watch, http://www.nwf.org/wildlifewatch/
This is a fun website. Before you head out of doors, visit this website to create a state specific listing of birds, mammals, and even insects that you might see. After you come back in, visit the website and let them know what you saw. By doing this, you will help Wildlife Watch track the health and behavior of wildlife and plants nationwide. You can even upload pictures.
Project Feeder Watch from the Cornell Lab of Ornithology and Bird Studies Canada, www.birds.cornell.edu/pfw
This is a year-long commitment. You collect information about the birds that you see at your backyard feeder. You only have to do this a couple times a week. The information tells scientists where birds and just as importantly where they are not.
Remember last summer's earthquake? Did You Feel It? earthquake.usgs.gov/earthquakes/dyfi is a Web site produced by the U.S. Geological Survey (USGS) to tap the abundant information available about earthquakes from the people who actually experience them. By taking advantage of the vast numbers of Internet users, USGS seeks to get a more complete description of what people experienced, the effects of the earthquake and the extent of damage. With the help of citizen scientists, USGS can do this almost instantly.
Want more? Scientific American has several citizen scientist projects listed on their website at http://www.scientificamerican.com/citizen-science/